Steelers 2017
Pittsburgh Steeler News

Testimonials:

Jeff McConnell - I bought chances the last three seasons... They were amazing in getting the chances to me very quickly! Would be so amazing to win this prize!
Quick, simple & easy to order the item & pay with my PayPal account.  As someone who buys things online frequently, I appreciate the user friendly design of the website. It was so simple to purchase the raffle ticket using my PayPal account & it took less than 5 minutes total from start to finish!
I'll also be getting more chances in May, June & July because I really want to win this time!

Greg Miller - Got my tickets in a timely manner. Very Professional. Thanks for everything...

Nancy Lackey - I live in North Carolina now and purchased 7 this year. (Because I got a feelin we are going to win our 7th Super Bowl with Big #7 Ben this year). (The way I feel is if I can't attend a game I will sell tickets on stubhub). I hope I win! $1400 cash + preseason & all home games can't beat it... Thanks for the fast service.

Dave Kowalski - Got 10 this year. $1400 dollar for me to spend on whatever I want PLUS Season Tickets. Can't beat that!!! Got the tickets fast and they're in my wallet waiting to win. Thank you...
---
With M & M Storage, the best self storage in Cresson which is right around the corner from your home or office.

Centrally Located
M & M Self Storage is centrally located in Cresson.  We are near a major road that is used daily by people living in Ebensburg, Gallitzin, Loretto, Munster, Lilly, and Downtown Cresson. Excellent for students attending Mount Aloysius and Saint Francis College.

State-of-the-Art Facility
M & M Self Storage was established in order to bring state-of-the-art self storage to the Cresson area.  The facility has the following features:



Centrally located between the Cresson Post Office and Downtown Cresson;



Ground level entry for all units which means no stairs hassles or elevators to deal with during your moving;

Locking systems that ensure that you use your lock and therefore nobody else has a key but you!
.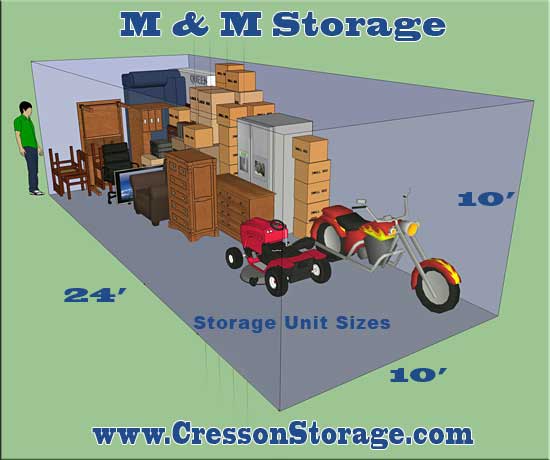 List Your Yard Sale FREE on CressonStorage.com (Click Here)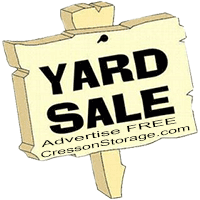 ---
2016 Steeler Raffle Ticket Winner - Shawn Kermerer
July 23, 2016 - PA Lottery Number: 853